The foto Holger has received is that one, if I remember right: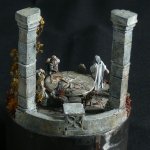 and it was taken this way: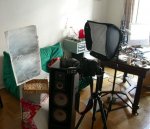 All miniatures are painted in oil-colours, the coloumns and the little socket are from "www.thomarillion.de", the stairs are build from myself.
The socket is handmade from a very kindful steel worker from my favourite steel-manufactory in my hometown.

Concerning the photo-session I didn´t use the aqua-coloure-background as you will already have noticed. Also the soft-box wasn´t a good idea.
Using the black cloth in conjunction with daylight was a very much better solution.
The pics was taken with a Nikon D90, AF-S micro 60mm objective.

It was a real pleasure to work with this box-set. One of The Man´s best miniatures ever.
Thank you again very much indeed for your support and your sympathy, fellows!!!!



Uff, I need a refreshing drink now. Let´s visit the pony . . .
Last edited by Turambar (Sun, Mar20 2011 1:32pm)