Well dear fellows

here it is: the Angmar warband set! The box is a postal box, because the mounted figures and the Trolls didn't fit in the Mithril plastic cases.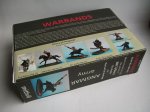 And here are the figures in the box: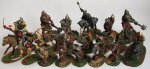 Here are the two latest Warband sets together:




It would have been nice to see officially released warbands like these, wouldn't it. Or if Mithril would release a range of figures again like they used to do in the early years.