A sharp look, Master Caster.
Investigated inside my mithril-folders I found following pictures:




Quiete obviously the "ebay-picture" in a much clearer look.




The bunch of figures of "Far Harad". You see, that the shield is fixed at the figure, as it is on my edition of that M73. It is NOT separated.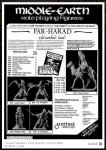 The last picture shows the old advertisment sheet from the irish company. Interesting to see, that the shield is missing!!!!!
It is also more than possible, that the source of the "ebay-picture" is that old advertisment photo . . . interesting that is.
Last edited by Turambar (Sat, Jan28 2017 2:02pm)