Now, where was I ?
Oh yes, the hobbits arrive at Weathertop and they can see strange lightnings far, far away, coming from Isengard:




And while Strider is searching for...whatever, the hobbits are attacked by surpise. They defend desperately...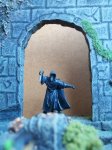 Frodo lost all hope and puts on the Ring, hoping to become invisible.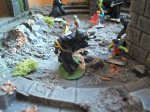 But in stead of Frodo becoming invisible, the Ringwraights appear to him in their true form...