The girls lead the captain to their settlement. However he does not have good news for the people there: Dunlend war parties are scumming through the land; on his way through the region he has seen a large group of Dunlendings and he had passed another Rohir settlement that was burnt to the ground. It is almost sure the Dunlendings will find this settlement too and attack it as well.
Not much warriors are available to defend the village, so every man that can be found to come to the aid, is important. Lars decides to go into the woods and ask the outlaws in the wood for help.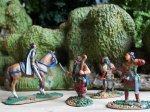 He finds the bandit camp and speaks to their chief. It's a big man, carrying an orc scimitar and another strange weapon the captain has never seen before. On his side stands one of the two guys he had seen watching the girls. When asked for help, the bandit chief answers: 'This is not our concern. The people of Rohan never gave us any help when we were in need. Last winter was very severe, but no Rohir man offered us any shelter. So why would we help them ? We are save in our woods. The Dunlendings will not find us. And now get out of my eyes, soldier of Gondor. I have nothing more to say to you and you have nothing to seek here!'
The captain hesitates, but the bandit chief seems decided. So he turns his horse and rides back to the settlement.

The Rohan people make reinforcements as fast as they can, and they have sent their women and children out of the settlement, into the woods, hoping they would be safe there.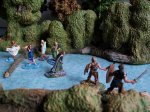 When the girls cross the river in the wood, two Dunlending scouts show up and threaten them.
'Those treasures will be ours, don't let them escape!'
'Be quite girls, and you will get no harm.'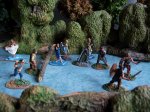 But when the Dunlendings approach, the girls got help from an unexpected side.
'Leave them alone, you scum!'
The two scouts were overwhelmed by the sudden appearance of the outlaws, and run away.

'Thanks for saving us, who knows what would have happened to us without your help.'
'It is not safe in the forest for women and children now', says Sean, 'We will bring you back to the settlement.'
'My father said it was too dangerous in our settlement. The men are too few to withstand the Dunlending warband.'
'Maybe. But if we join them, we can make a chance. It will be better than letting you be caught in the forest.'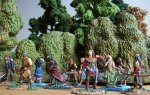 The bandits bring the women and children back to the settlement.

Sean explains to Dany's father it was not safe in the forest and that the bandits offer their help for the defence of the settlement. But captain Lars has been observing the outlaw sharply .


'I recognize those clothes…' he says.
Sean looks as if he was trapped. The captain continues: 'This are a Gondorian uniform. Are they yours or did you steal them from a soldier ?'
'They are mine.' answers Sean, 'I never stole anybody's clothes.'
'Says a man who lives with a gang of forest bandits. But if those clothes are yours , it means you're a deserter from the Gondorian army. There are severe sanctions for desertion.'

'Captain,' intervenes Dany, 'this man saved our lives and offers his help for defending our houses. And us. He's an honorable man.'
'An honorable man who deserted his brothers in arms. It should mean courtyard. But you are right, mylady. We need every man in this moment of need. If he fights well, I will make an effort to his defence so he can join the army again and…'
'I'm not interested in the army of Gondor…Captain.' says Sean, 'I will fight as good as I can, but not for Gondor. The only thing I care for is the safety of the girls.'
'Well, we'll see about that. Prepare for the fight. It won't take long before they attack.'



When darkness falls the Dunlending chiefs take a look at the settlement, from the border of the forest.
'It looks like a strong settlement to me. But a rich one. Our reward will be big.'
'Only few defenders. Our scouts told me they counted only 8 warriors this morning.'
'So a massive attack can be no problem. We use everything we have: ladders, our axemen. And we attack from two sides, front and back. They have not enough men to hold on. It won't take long.'

(to be continued)