Bonjour à tous !
Tenez bon ! Des jours meilleurs approchent !
En attendant le mois de mai 2021, j'ai décidé d'occuper un peu mon temps libre à quelques projets figurinistiques et principalement aux Mithril. Pour me refamiliariser de nouveau avec la peinture à l'huile, après avoir repris puis abandonné, je me lance dans une rééducation (la plus courte possible si je peins beaucoup) afin de pouvoir vous présenter (je l'espère, niark niark COVID) de belles saynètes de figurines peintes au TMM 2021.
Mon premier projet sera de mettre en couleur la figurine MS 534, achétée au printemps dernier lors de l'opération déstockage de PA Irlande.


Je ne la connaissais pas. Elle fait partie des références que je n'ai pas achetées, m'étant éloigné des figurines Mithril dès la fin des années 90.
J'ai repéré cette nouvelle version d'Isildur sur le site Lost Mini Wiki [(merci Milo pour la mise à jour régulière des nouveautés Mithril), j'espère qu'en Mai 2021, vous m'aiderez à mettre le pied à l'étrier pour que la rubrique Armageddon puisse être, aussi, complétée]. Elle m'a plu par sa simplicité et m'évoquait la saynète du Mithril Fellowship MS 226, peinte par Jacques. Cette fois-ci, Isildur a enlevé son casque et cela donne une dimension 3 D à la figurine qui n'est pas pour me déplaire.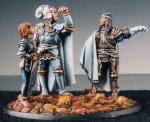 Après l'avoir décapée (la sous couche grise est trop granuleuse ), il ne me reste plus qu'à passer au stade de l'ébavurage, et malheureusement, il y a du travail pour gommer toutes les aspérités et les défauts du moulage. J'espère pouvoir la sous coucher ce week-end et pouvoir débuter la peinture dans les prochains jours. Mon schéma de couleurs est déjà bien en tête, puisque que je vais globalement m'inspirer de celui de Jacques, avec les bleus qui le caractérisent tant pour la peinture des Elfes. Si tout se passe bien , j'enchainerais par une saynète mettant en scène un couple d'Elfes. Qui saura trouver la bonne référence ? Oui, je vous l'ai déjà dit, je suis joueur !
J'attends vos réponses.
Bon week-end à tous et portez-vous bien !


Good morning all !
Hold on tight ! Better days are approaching!
While waiting for the month of May 2021, I decided to occupy a little my free time in some figurinistic projects and mainly in Mithril. To familiarize myself again with oil painting, after having resumed and then given up, I am embarking on a rehabilitation (as short as possible if I paint a lot) in order to be able to present to you (I hope niark niark COVID) of beautiful sketches of figurines painted at the TMM.
My first project will be to color the MS 534 figurine, bought last spring during the PA Ireland destocking operation. I did not know her. It is one of the references that I did not buy, having moved away from Mithril figurines at the end of the 90s.
I spotted this new version of Isildur on the Lost Mini Wiki site [(thank you Milo for the regular update of Mithril news), I hope that in May 2021, you will help me get started. 'stirrup for the Armageddon section to be completed]. It pleased me by its simplicity and reminded me of the sketch of the Mithril Fellowship MS 226, painted by Jacques. This time, Isildur took off his helmet and it gives a 3 D dimension to the figurine which is not without displeasing me.
After stripping it and removing the gray undercoat, I just have to move on to the deburring stage, and unfortunately, there is work to erase all the roughness and defects of the molding. I hope to be able to put it down this weekend and thus be able to start painting in the days that follow. My color scheme is already well in mind, since I will be generally inspired by that of Jaques, with the blues that characterize it so much for the painting of the Elfs.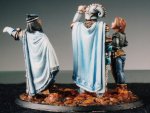 If all goes well, I will continue with a sketches featuring a couple of Elfs. Who will be able to find the right reference? Yes, I told you before, I'm a player!
I await your answers.
Have a good weekend everyone and be well !
Last edited by Fabrice JACOB (Fri, Sep4 2020 3:23pm)