After Hollidays is time to come back to work!!!



Master Maenas: Probably you are right.... I will try with another backgrounds, thanks for your comments....always welcome.

I finished to paint another unit from my Angmar army

FOR ANGMAAAAAARRRRRRRR!!!!!!!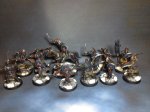 To complete this unit I need another M44 miniature....let me know if you have one to sell, thanks!!!



more orcs coming soon....

Last edited by orc (Wed, Jan13 2016 12:19pm)