A uialacu (S. Twilight Bow), a nine-elf company of wood elf sentinels watches the Mirkwood Eaves while the enemy gathers strength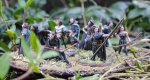 Rumours have come of wolves and goblins assailing the Beornings, and now the captain, Ranion (or "Rongol" to his friends) of the eastern marches must decide whether he should venture forth from the greenwoods to their aid.




His advisor and kinsman Nathron counsels stealth, but his warriors are young yet and their hate of the orcs burns brightly.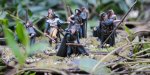 The Tauranca listen intently, for the trees hear all.





But they are but few, a tiny band of warriors in a vast and often hostile forest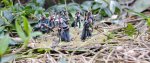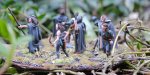 With very, very special tanks to Milo, Holger and indeed Master Barliman for the inspiration.